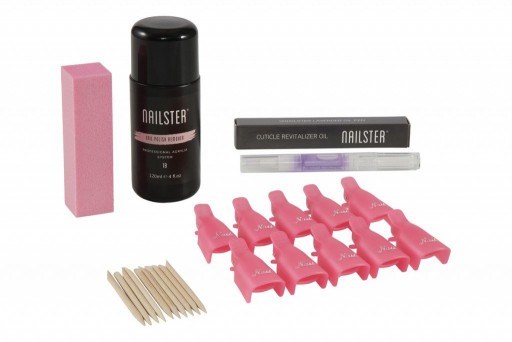 Nailster Removal Kit is perfect for removing your gel polish.
Based on more than 600 opinions
If you have any questions you are always welcome to contact us.
Satisfaction guaranteed
365 days full right of return
Always free shipping on orders over £49.
Satisfaction guaranteed 365 days full right of return
Price Match Best prices on the market
We love receiving photos from our customers!
Send yours
Your parcel is traceable and insured. Next dispatch to UK: hours
More information
Nailster Removal Kit is perfect for removing your gel polish.
Our removal kit contains:
1x Nail Polish Remover
1x Cuticle Oil Pen
1x Buffer
10x Manicure sticks
10x Nail soak-off Clips
Do you have any doubts?
Why do I need Nailster gel polish base coat?
Our gel polish base coat ensures that our colored gel polishes adhere better. Our base coat also prevents discoloration of your own nails.
How do I take off my Nailster gel polish?
You wrap your nails in our lint-free wipes wetted with nail polish remover and then apply our nail clips, which will seal the nails and ensure optimal conditions for the nail polish remover. After 15 minutes, you can check one of the nails and see how dissolved the polish is. If it's still stuck in some places, you let the seal stay on for an extra 15-30 minutes.
Guide
your guide to beautiful nails
01.
Prep your nails: Wash hands, remove dirt, push the cuticle back, remove dead skin at the edge of the cuticle, use the buffer on top of the nail plate to matte them to remove oil layers, wipe with lint-free pads to remove any oil residue finish by applying primer and let it air dry
02.
Apply basecoat, let it dry in the UV lamp for 60 seconds. Then you only need to apply your favorite color!
03.
After applying your favorite color, use our Pro UV lamp to dry the nail polish for 60 seconds.
04.
Give your nails a finish with a topcoat and you can possibly decorate your nails with nail art both before and after using the UV lamp
Inspiration
Get inspiration from
Nailster's many customers.